Winter skin care
News
| autor:
PIP
| 18.01.2018.
How to resolve cracked lips, facial redness, dry skin, rough heels…?
The winter sun and time spent outdoors does wonders for health, making us feel better and well rested. However, low temperatures and cold winds can be damaging to skin.

For all those who want to maintain their skin beautiful and healthy through the winter months, there is no time to hibernate! Skin care is essential, ensuring it remains well hydrated and nourished, as the cold weather can wreak havoc on any skin type. During winter, hydration is more important than ever. Increased dehydration of skin due to weather conditions, sudden changes between hot and cold air, and moreover, time spent indoors in heated rooms with dry air can cause flaking, roughness, redness and loss of elasticity in skin, which makes this a great challenge in skin care.

The skin on the hands, face and lips is most exposed, and suffers the greatest damages in the winter months. In combination with frequent hand washing, the damage can even be painful. The skin on the feet and other parts of the body can also become rough. Long, hot showers, and even hot bubble baths contribute to drying of the skin. Thick layers of clothing are an additional factor that hinders the natural sloughing of dead skin cells, contributing to the poor condition of skin in winter.

The first step to treating dry skin in winter is returning moisture to the skin, followed by cellular regeneration and the supply of much needed lipids to skin. Apply creams and lotions with a richer texture, to protect the hydrolipid layer of skin, to enable skin to be more resistant to external influences and to reduce reactions. In addition to increasing care of the skin on the hands, face and body, be sure not to forget to care for the skin on your lips, by applying nourishing balsams with SPF.

Though much has been said about the need to protect the skin from the outside, little attention has been paid to the importance of internal protection. Vitamin C is an integral element of collagen, and therefore is exceptionally important in the protection of skin. Collagen is a protein that serves as the fundamental building block of skin and the epithelial layers of the mucous membranes. This protein is the first line of defence from harmful impacts. Vitamin C participates in the synthesis of collagen, making skin more resistant to various forms of damage. Some indicators suggest that due to its effect of hydroxylating collagen, vitamin C plays an especially important role, and helps to delay the process of aging of the skin.

The appropriate intake of vitamin C, in combination with additional natural sources of antioxidants such as bioflavonoids, contributes to the normal resistance of skin and its regeneration.

The FARMAKOL product line satisfies all the skin's needs during winter!

FARMAKOL DERMAPIP BODY LOTION is intended for the daily care of sensitive, dry, inflamed and damaged skin. Thanks to the natural active ingredients: honey, panthenol, propolis, royal jelly and calendula extract, this lotion nourishes and deeply moisturises skin, making it elastic and velvety smooth. It is ideal for soothing redness and returning elasticity to skin, and naturally relieving irritation in dry and sensitive skin. The hydrating and protective properties have an anti-inflammatory effect, soothing dryness, flaking and itchiness. Honey and royal jelly activate the skin cells' own mechanisms that slow aging, and improve tissue regeneration, and protect the skin cells from degenerative changes, whilst deeply nourishing and moisturising the skin. Dermapip body lotion has a light texture, is easy to apply and is quickly absorbed, and it contains herbal and natural fragrance components that give it a light and pleasant fragrance.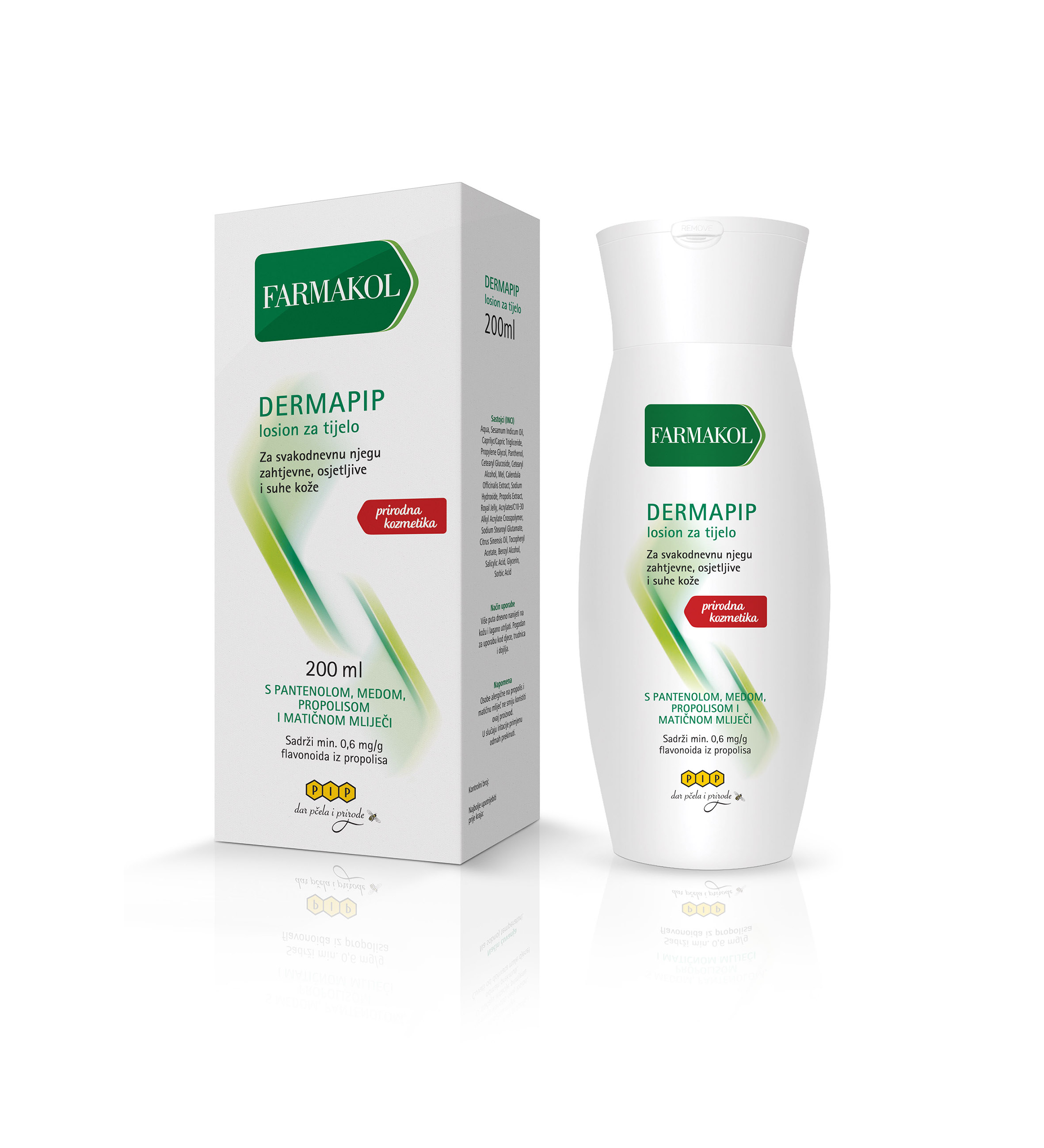 FARMAKOL DERMAPIP CREAM is an intensively soothing and regenerative cream intended for damaged skin with dry lesions. Damage caused by dryness must be protected from further drying, and must receive sufficient moisture. In cases of damage to the skin, it is important to relieve the irritation, sooth the itch, and stimulate the healing processes, to return the complete function of the skin. The active ingredients of Dermapip cream act to prevent secondary infection, to sooth inflammation, to improve skin regeneration and to stimulate the production of collagen fibres.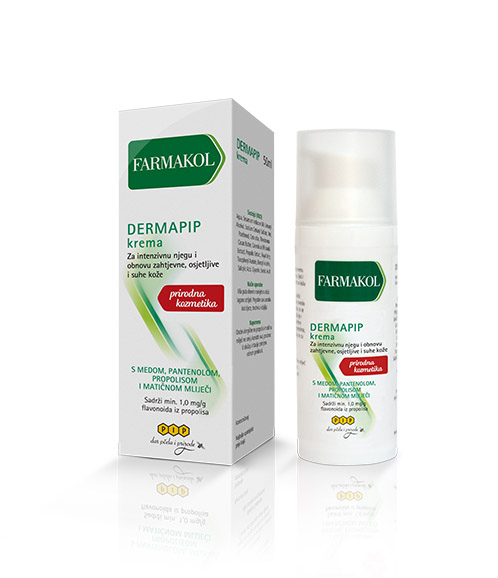 FARMAKOL Lip Balm is a natural solution for the care and protection of lips, and is free of paraben, colouring, perfumes and mineral oils.

Farmakol Lip Balm Honey + SPF 15 nourishes and hydrates the skin of the lips, ensuring effective sun protection. Thanks to the active ingredients, the balsam has protective, soothing and regenerating effects. It nourishes and cares for the skin of the lips, protecting lips from external factors. SPF 15 ensures protection from both UVA and UVB rays.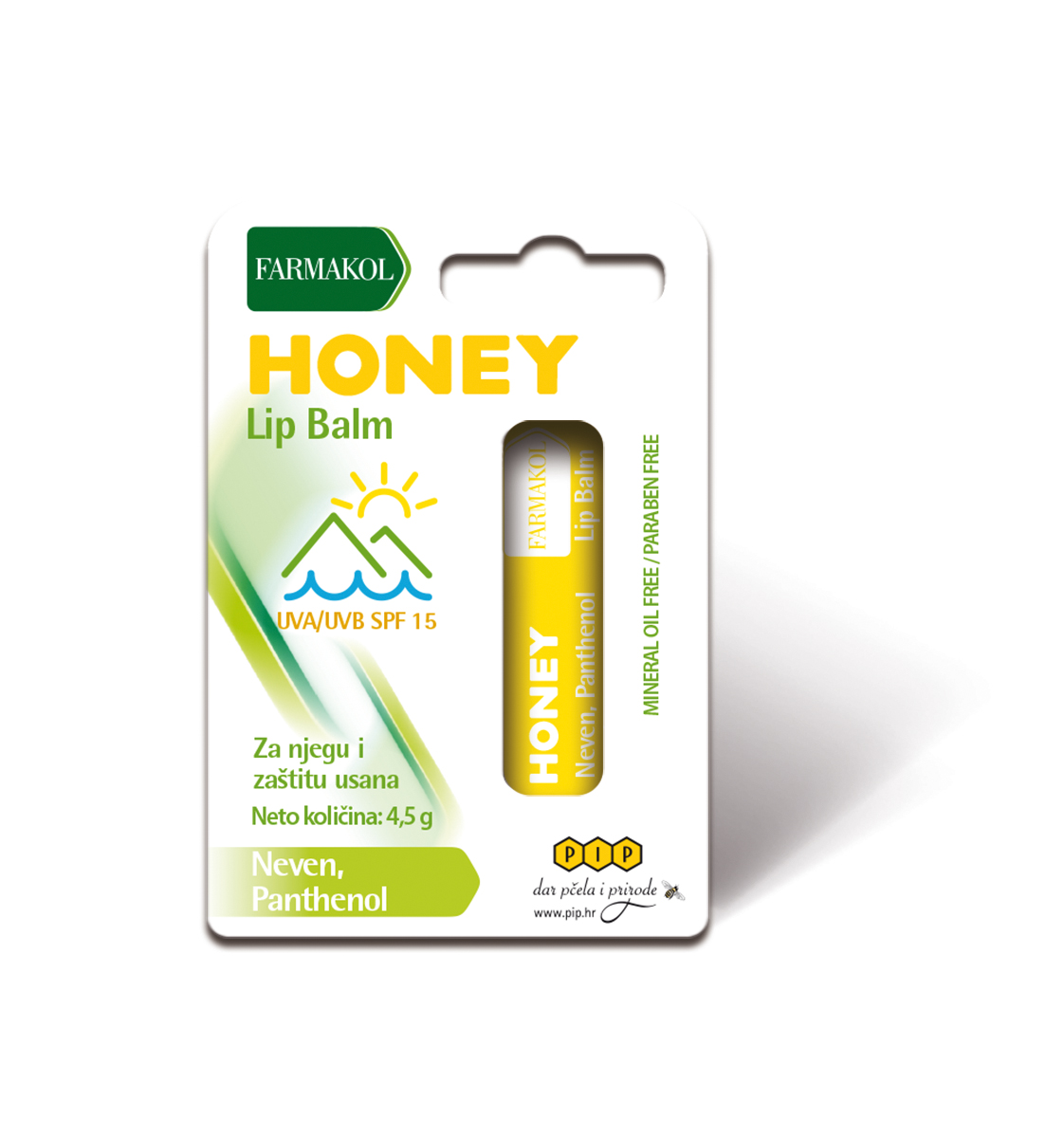 Farmakol Lip Balm Propolis
Soothes and renews damaged and cracked lips, has mild antiseptic and antibacterial action. Propolis and echinacea have protective, anti-inflammatory, soothing and regenerative effects. Nourishes and cares for lips with cocoa butter, jojoba oil, panthenol and calendula extract. Vitamin E protects the lips by protecting against the effects of free radicals.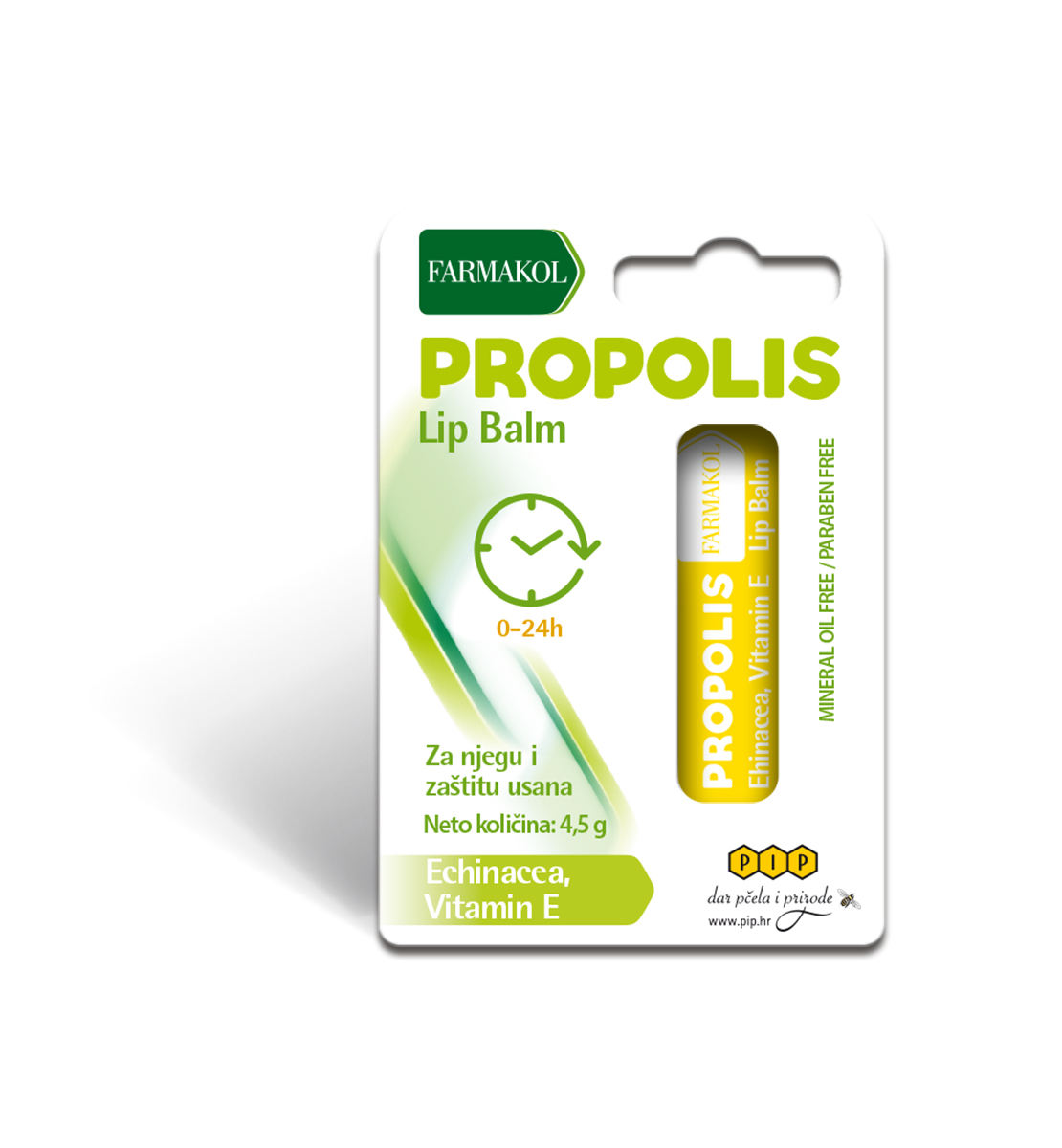 FARMAKOL PROPOCIJAN PLUS CAPSULES
The synergy of vitamin C and bioflavonoids, the active ingredients in these capsules, is an excellent choice for the internal protection of skin, contributing to normal skin function and its regeneration. Bioflavonoids (vitamin P) act as a strong antioxidant that prevent the formation of free radicals, compounds believed to be responsible for early aging. Their activity is complementary to that of vitamin C, increasing its absorption and content in cells, and helping to preserve collagen and the elasticity of capillaries and veins in deep layers of the skin.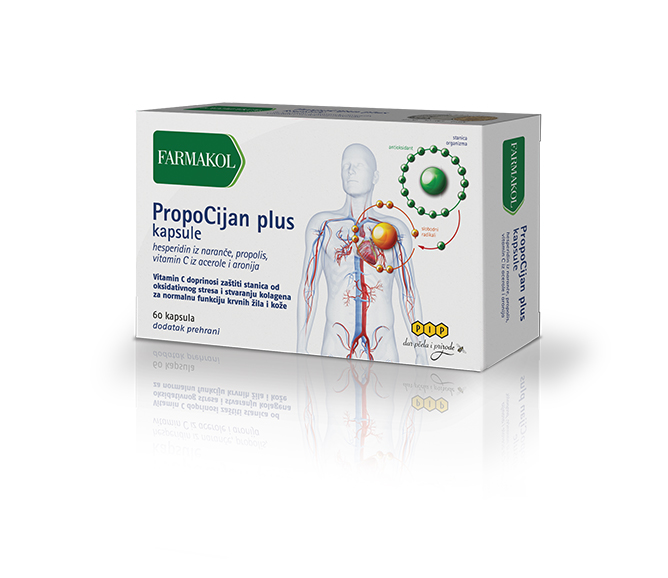 Article by: Petra Galović, BSc, PIP d.o.o.