Only a kiss with nurtured lips can pass on positive energy!
Education
| autor:
PIP
| 21.11.2017.
In our daily care rituals, we often forget about our lips, and the result is that they lose their natural fullness and elasticity.
Lips are a sensitive and fragile part of the body. The skin on the lips is not the same as the skin anywhere else on the body. Unlike facial skin, the lips lack glands that secrete sebum that acts as a protective barrier for various external factors. The skin on the lips consists of just three to five layers, making it very thin compared to the skin on the face, which can have up to 16 layers. This is why lips are more prone to dryness, and they can become chapped. They are equally sensitive all year round, regardless of the external influences.

They are equally susceptible to cold as they are sensitive to heat, hot air, wind, sun and the sea. Wind, cold, sun, snow, heating and air-conditioning can dry lips out, as they lack their own natural oils to protect them. Time spent on a windy beach, doing sports, skiing in winter, in combination with sunshine, is a perfect recipe for chapped lips. The lips are very sensitive to the sun's rays, and so they require UVA and UVB protection.

Exposed to the elements, the lips easily dehydrate, cracking and straining, resulting in burning and pain. Dehydration can in part by prevented by ensuring adequate fluid intake, though it is very important to additionally protect the lips with a balsam that will form a protective layer, and also stimulate regeneration, to prevent further damage.

Very often, we ourselves are the cause for our lip irritations. Without even realising it, frequently licking the lips further dries the skin, creating an endless cycle of dehydration, as the saliva evaporates, the moisture levels in the lips is further reduced, making them even drier than before. The upper layer of skin quickly becomes chapped and begins to peel, making the lips cracked and even drier. Biting, pulling or peeling off the dry skin only increases the sensitivity of lips.
In addition to dehydration, a very common cause of lip damage is the cold sore (herpes virus), which is more prevalent during the winter months. However, more sensitive persons can even have cold sores in summer, as a result of exposure to ultraviolet rays or a drop in immunity.

In addition to these difficulties associated with dry and cracked lips, we should remind ourselves that a kiss on the lips sends positive energy, and so much more than that.

Is this possible without hydrated and soft lips? How can this be preserved?

Protection and care of lips with balms

Lip balms create a protective layer that the lips should receive from the natural, protective oils secreted by the skin. This layer prevents the evaporation of moisture, protecting lips from wind and sun and other harmful external factors. However, not all lip balms are created equal.

Avoid balms containing chemical substances, such as petroleum and mineral oils. These industrially obtained oils are not recommended, as they coat the lips and lips are not able to "breathe" and absorb moisture and nutrients. Conventional lip balms often dry out the lips instead of moisturising them, thus resulting in the need for frequent, repeated applications.

The best products for lip care are balms rich in natural ingredients, butters and oils that are quickly absorbed, and those that deeply nurture the skin and protect it from dehydration and damage. In addition to butters and oils, welcome ingredients in lip balms are bee products, such as wax, honey and propolis.

Bee wax is a type of emulsifier that binds oil and water. It creates a protective film on the skin, preventing skin from losing moisture. Honey contains active biological compounds (vitamin B complex, minerals such as iron and zinc, and microelements such as sodium and calcium), and has strong regenerative activity, while propolis has an anti-inflammatory effect on skin.

The Farmakol lip balms are natural solutions for the care and protection of lips. All balms are free of paraben, colouring, perfume and mineral oils.

Farmakol Honey lip balm
Nourishes and hydrates the lips, providing protection from the sun. Thanks to the active ingredients, this lip balm has a protective, calming and regenerative effect. Nourishes and nurtures the skin of the lips, and protects the lips from external influences. SPF 15 also ensures high quality UVA and UVB protection.

Honey, calendula extract and panthenol calms, hydrates and protects the lips from drying. Avocado and almond oils further nourish and nurture the lips, while SPF 15 provides sun protection.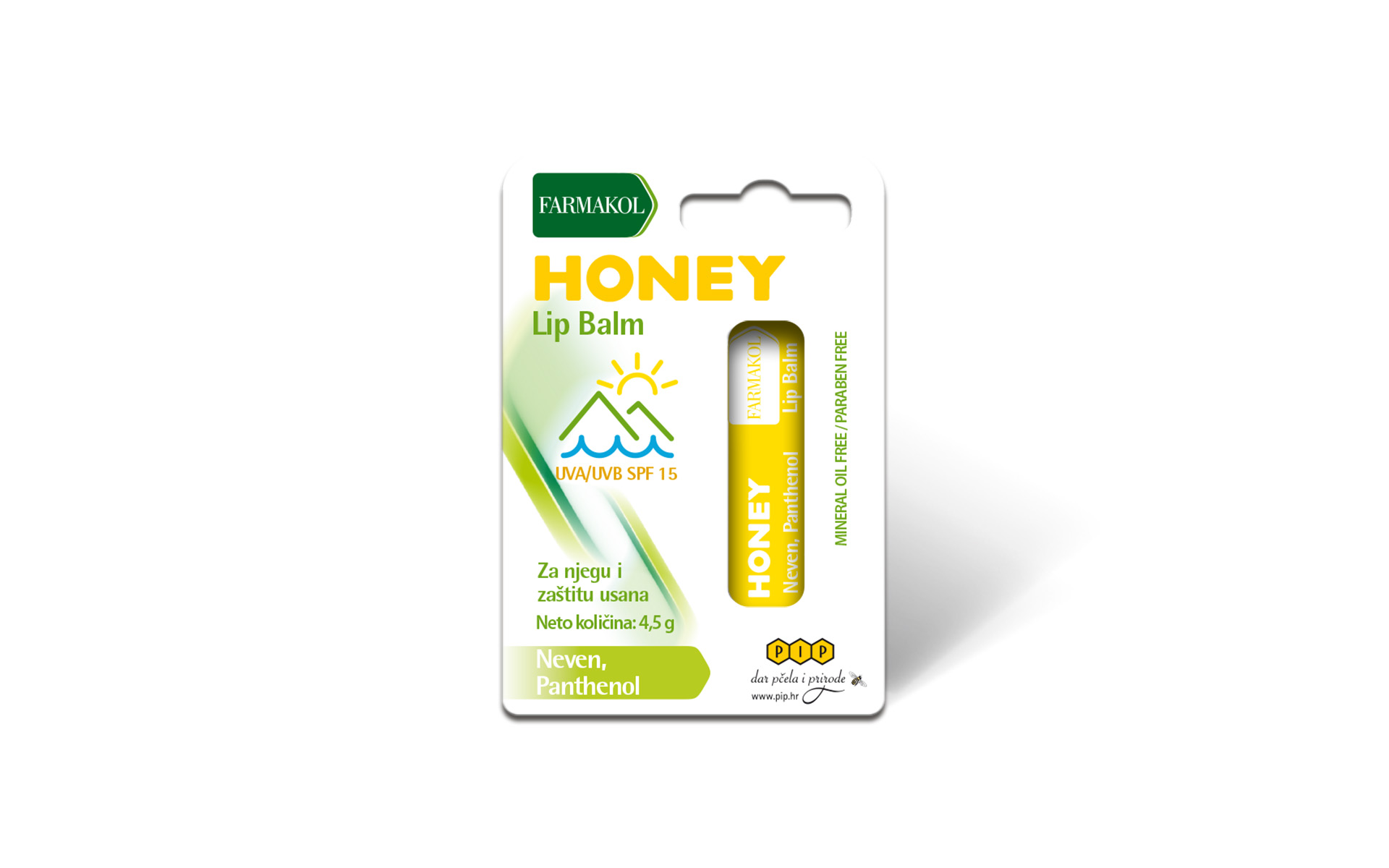 Farmakol Propolis lip balm
Soothes the repairs damages and cracked lips, has mild antiseptic and antibacterial activity. Thanks to the active ingredients propolis and Echinacea, this lip balm has a protective, calming and regenerative effect. Nourishes and nurtures the lips with cocoa butter, jojoba oil, panthenol and calendula extract. Vitamin E protects the lips from the effects of free radicals.

Propolis and echinacea have an anti-inflammatory effect, stimulating the regeneration of the epidermis, and accelerating healing of damaged skin caused by cold sores (herpes). Calendula extract and panthenol have a soothing effect, to further reduce the unpleasant symptoms of damaged lips.